I don't normally shop at Morrisons, I'll admit, as it isn't the most convenient for where I live. But a new shiny one has opened not too far away so the BritMums promotion was a good opportunity to give it a try.
I started off with a great customer service experience - I didn't realise I'd need a pound coin for my trolley, and of course I didn't have one, so I went to the desk and asked for some help. Someone was immediately called over to come and unlock a trolley for me.
The shop is new so everything was well laid out with shiny displays. In particular I liked the way the fruit and veg was laid out like market stalls. The prices were comparable to Tesco, where I normally shop, and I would be tempted to shop at Morrisons more often if it wasn't for the distance involved (20 minute drive vs. 5 minute drive). As well as the normal shopping, I wanted to get things for two bank holiday meals - our dinner on Saturday and a roast on Monday (Sunday was my husband's birthday so we went out to eat and I didn't have to cook - but I did buy a lovely chocolate cake for tea!).
The Saturday meal was a favourite in our house, sausages and cheesy potatoes. For that I bought:
Sausages, £4
Baking potatoes, £1.14
Grated cheese, £3.50

Cheesy potatoes are easy to make but very yummy. All you need to do is bake the potatoes, then cut them in half and scoop out the middles. Mash the potato with some butter, powdered garlic and lots of grated cheese.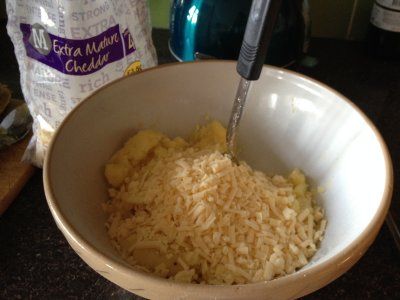 Then spoon it back into the potato shells and pop them under the grill for a few minutes until the tops go all nice and brown.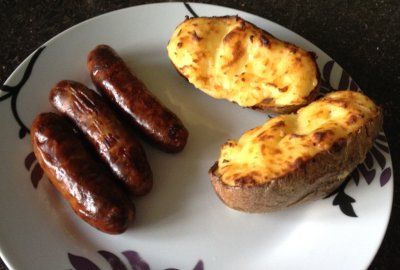 Yum! I used less than half the cheese on this meal so I'd call that £1.72 per head.

The roast dinner I forgot to take any pictures for but I bought:
Chicken, £4
Maris piper potatoes, £2.25
Yorkshire puddings, £1
Frozen peas, £1
Carrots, 18p

We only used half the potatoes and yorkshire puddings and some of the peas so I would say that came out at £1.50 per head. Not bad and another delicious meal! The chicken in particular was lovely.

Disclaimer: I received £80 of Morrisons vouchers in exchange for writing this post